Hello XR Manchester crew!
It's a busy time and there's lots to share so standby for a full run-down - and a look ahead to what's coming up!
Hope to see you tonight at our weekly meeting - we're back in the Breadshed but are moving to an exciting new venue in the New Year!
Call to Action! - this week's events
Monday's meeting
XR MCR Winter Fest party!
Action news round-up
Dates for the diary
Global Justice Visioning Day
Job shout-outs
Other news (good news/bad news/catch up/join in links)
CALL TO ACTION! 📣📣📣
Election Rebellion
The General Election draws ever closer and with the polls narrowing by the day, it's clear campaigning efforts ARE making a difference and can influence the result.
Channel Four's historic climate leaders debate made headlines last week; and this week we have the chance to continue to push home the message that the climate emergency must be central to the next government.
The BBC's final election Question Time debate is taking place on Thursday (5th Dec) in Hull, and rebels are urged to attend to make their voice heard.
🌊🌊💀💀💀🚨🚨🚨🚨🚨💀💀💀🌊🌊 Bring torches and let's be the lighthouse that signals that danger lies immediately ahead! Meet in Queen Victoria Square at 4.30pm.
There is financial help available for travel expenses - message the Facebook event for more info about this or the action in general.
There's also a protest at the BBC hustings in Warrington on tomorrow night (Tue 3rd, 6.30pm) - please attend if you can and help make some noise as this is a crucial marginal constituency!!
If you're wondering where else to campaign between now and the 12th - some of the most important tactical constituencies in the North West also include - Barrow in Furness, Blackpool South, Bolton North East, Burnley, Bury North, Cheadle, Crewe and Nantwich, Southport, Weaver Vale and Wirral West.
This is a really good guide to the main parties stance on various issues in climate crisis (use the dropdown selector to choose any manner of environmental topics) and XR now has a stand-alone election section on the main XR website.
And if you need a pre-election boost: Did you know a massive 4.1m people registered to vote in the few weeks before the deadline (versus 2.9m in same period in 2017)?
MONDAY MEETING
Tonight's meeting is back in the Breadshed - 6.30-8pm.
The meeting will focus on discussing tactics and strategy from XR's national London action.
There will also be an opportunity for working groups or individuals to meet and plan stuff, finishing with the ever-popular open mic for shout-outs and announcements!
We have two more meetings before Christmas break which will include a chance to talk about:
Dec 9th - what police did differently in October - how we could counteract the tactics ?
Dec 16th - Looking forward to 2020 - what next?!
We return for our first meeting of the new year on January 6th, and an exciting new venue!
XR MCR - WINTER FEST PARTY!
It's been a long year … so come along and regenerate and celebrate with other like minds at our winter social!
(Sun Dec 15th, 4-8pm Grub at the Redbank Project, 50 Redbank M4 4HF (10 minutes walk from Victoria Train Station).
'Join us for the best vegan street food in the UK, top notch local craft beer and toe-tapping tunes all at The Redbank Project - cosy Christmas vibes and lots of good XR cheer'.
We have our own space and the option to bring in our own musicians, bands, poets to perform. If you're interested in performing please comment on the linked Facebook post.
ACTION NEWS ROUND-UP
Seven-day student sit-in wins University divestment climb-down
After a week camped in the John Owens building, an occupation by Fossil Free University of Manchester students ended after authorities committed to a full review of investment policy, to be implemented from 1st August 2020.
'Whilst we remain disappointed that immediate divestment of ecocide-causing companies isn't happening, the potential to transform the £200m investment portfolio into a weapon against climate change goes even further than the process of divestment'.
This process will begin on 12th December with detailed discussions of decarbonisation, which members of the Student Union Executive team will participate in.
The action also persuaded the university it needed to increase emphasis on student engagement and it has now 'opened new channels through which the student body can have a far greater say in the running of the University'.
The action was part of the global People and Planet campaign - which has students gradually winning similar commitments for universities to withdraw from the fossil fuel industry.
There was further good news, in that Manchester City Council have now started to challenge the investment strategy of the Greater Manchester Pension Fund, which remains the biggest and dirtiest pension fund in the UK.
Interesting to also see student power also coming to the fore in the campaign to save Ryebank Fields in Chorlton (the land is owned by Manchester Metropolitan University).
Tree-mendous: XR Trafford tackle council's inaction on its own emergency
XR Trafford staged a well-received action that forced councillors to engage in discussion about their wholly inadequate response to climate breakdown - which has been criticised by their own internal report one year since an emergency was declared by Trafford council.
Rebels presented councillors with a forest of tiny saplings, delivered in style by a cargo bike from Bambino Biking, and invited all elected officials to claim their free tree as a sign of their commitment to tackling climate breakdown and as a prelude to discussing the issue together.
'We expressed our shock that the council's own scrutiny report revealed that many of their own council officers aren't aware that a climate emergency has been declared. We pointed out that it is not only the policies created by the council that are important, but the culture. For effective transition towards carbon zero to take place the climate emergency must be at the heart of everything the council does'.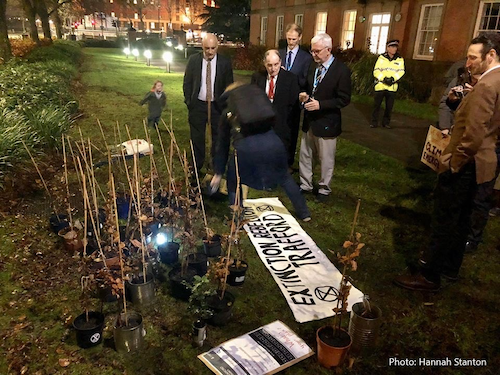 (By way of example, there is no mention of the council having declared a climate emergency on its website or any accessible information for residents on the declaration or on the council's progress towards decarbonisation).
Full rundown of the action here - 34 councillors claimed their tree - with one posting this message on Facebook.
'Speaking as a Councillor present, it was an extremely effective action, that I'm sure will have focused minds. All XR members present were a credit to the group and their questioning was superbly robust and direct. More like this please'.
This is the time of year when all councils are planning their future budgets - so it's a crucial time to be engaging with councils to follow up on their emergency declaration - there is some XR guidance on how to do this here.
And more general resources here and here, as well as a local campaign for Manchester here.
Manchester Youth Climate Strike leads BBC 6pm bulletin
About 500 students, families, campaigners (and our ever-present samba band!) gathered in St Peter's Square for November's climate strike - and the BBC cameras where there to capture the images which led their evening report rounding-up the global action.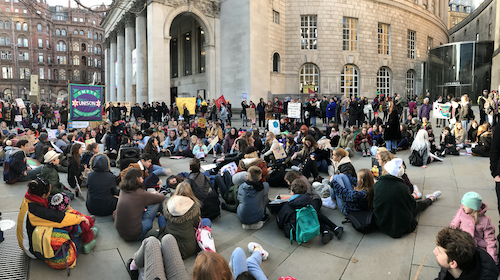 Interestingly, at least one school in Manchester (Chorlton High) made the day an 'INSET' day, allowing their pupils to attend.
Listen to 11-year-old Lillia's speech here
XR Manchester were among the groups there in numbers, with a stall, fabric printing, leaflets and our lovely new banners which had been made at the XR Arts group's workshop the previous weekend.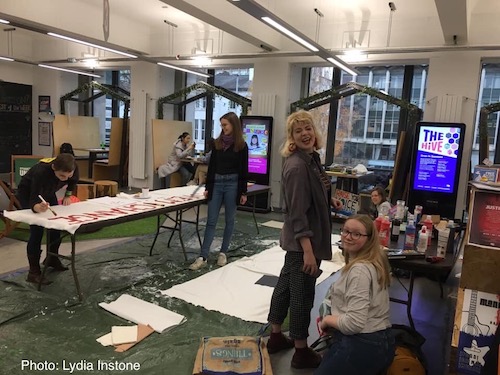 'Buy none, set one (self) free'
The action came on the same day as so-called Black Friday and its artificial, profit-driven focus on consumer excess.
XR activists were out early to fly-post Manchester hotspots, and we also spotted this nice piece of 'subvertising'.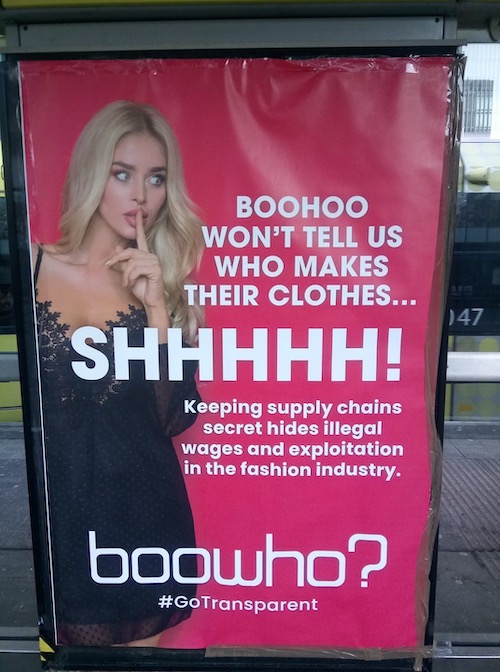 'Your house is on fire and your children are gone'…
XR Chorlton and the Open Voice Community Choir from Whalley Range combined forces to stage a flash-mob choir performance in St Anne's Square in Manchester to bring the climate crisis to Christmas shoppers, with the new Northern Red Rebels also in attendance making for a brilliant, poignant action.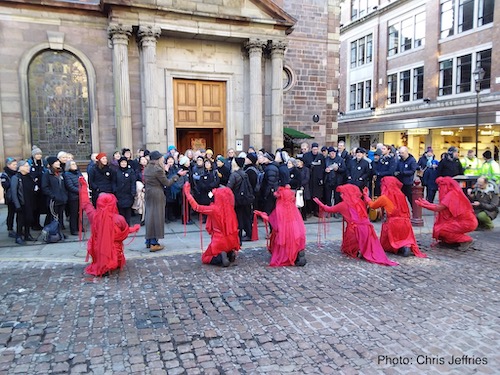 Meanwhile in Bolton, XR rebels staged a die-in as their part in a busy weekend of action.
DATES FOR THE DIARY
Tue 3 Dec, BBC Election Hustings, Warrington - XR protest
6.30pm, Bold Street Methodist Church, 4 Palmyra Square N, Warrington WA1 1JQ
Let's make sure all of the candidates are thinking about the Climate Crisis as they enter the BBC invitation-only hustings. We'll hand out leaflets to the public and lobby the candidates as they enter if we're able. Bring placards, signs and flags, leaflets will be provided.
Mon 9 Dec, Chorlton Climate Election Hustings
7.30-9pm, The Edge Theatre & Arts Centre, Manchester Road, Chorlton, Manchester, M21 9JG
Extinction Rebellion Chorlton has arranged for a Hustings focusing on the Climate Emergency with local candidates from all the main parties invited.
All are welcome! You don't have to be part of or even a supporter of XR, but if you are concerned about the climate and ecological crisis, come along to ask questions!
Mon 9 Dec, Heading for Extinction talk, Stockport
7-9pm - Viaduct Theatre, Merseyway, Unit D11-12, Stockport, SK1 1PD
GLOBAL JUSTICE VISIONING DAY
Sat 14th Dec: Global Justice visioning day
2-5:30pm, Work For Change, 41 Old Birley Street, M15 5RF Manchester, United Kingdom
The Global Justice Rebellion centres the issues of global and local inequality, of current and historical power imbalances and of capitalism and colonialism. During the week of International Rebellion in November a collaboration of XR Youth, International Solidarity Network, XR Disabled Rebels and the Environmental Justice Bloc created the Global Justice Rebellion Site.
We want to form a Global Justice Rebellion Northern identity, to learn from and be shaped by the many individuals and organisation that are already working to challenge the injustices of our broken system.
Join us and all those who contributed to the Global Justice Rebellion to envision our Northern Network and see where we go next……
NB Manchester Friends of the Earth host a more extensive calendar here
JOBS SHOUT-OUTS
We're looking for 1-2 people who would be interested in joining the Affinity Group Support Network for the North.
We need lots of enthusiasm to get Affinity Groups to be able to act autonomously at all actions, particularly the next rebellion (pencilled in to start Easter Monday, April 13th, 2020).
Meetings an hour every Friday at 9am (generally), and extra work would be around 3-4 hours contacting people, keeping spreadsheets, linking with different groups around the North, and writing short training materials.
Contact: Email Lizzy for details at hello@xrmcr.org (subject: Affinity Group Support Network)
OTHER NEWS ROUND UP
⚡ IMPORTANT LEGAL INFORMATION FOR ARRESTEES FROM THE OCTOBER REBELLION ⚡
Following the High Court ruling that Section 14 was used illegally in week two of the October rebellion, charges have been dropped by police for the first week too.
If you were arrested for breach of a Section 14 during the October Rebellion please read this briefing. It sets out the next steps available to you including guidance on how you might bring a claim for compensation against the Met.
One Manchester-based rebel who helped set up XR lawyers has written this article on the subject.
Good news
EU Parliament declares a climate emergency
Bad news
Catch up: your recommendations
'Climate Election Leaders Debate' catch up on Channel Four on YouTube
'Meat a threat to our planet', catch up on BBC iPlayer
Conservationist Isabella Tree on Desert Island discs
The World is Yours (4min) - climate change 'from the perspective of black & brown people in Britain'
Join in
Take part in virtual debates at the next big climate convention (Cop25, Madrid, 2nd-13th Dec)
Have your say 🗣️ on XR UK's future (repeat from the XR National newsletter) via this survey.
This newsletter is curated from the links and information you share and provide.
If you have an item or ideas for this newsletter please email media@xrmcr.org or if you are on the XRMCR slack, message #media-content-posting on the XRMCR Slack.
*Slack is the messaging platform that working groups use to organise in XRMCR. For general communications we use our Facebook page/group and this newsletter.